Ask Pastor John
Por qué ir a la iglesia no nos convierte en cristianos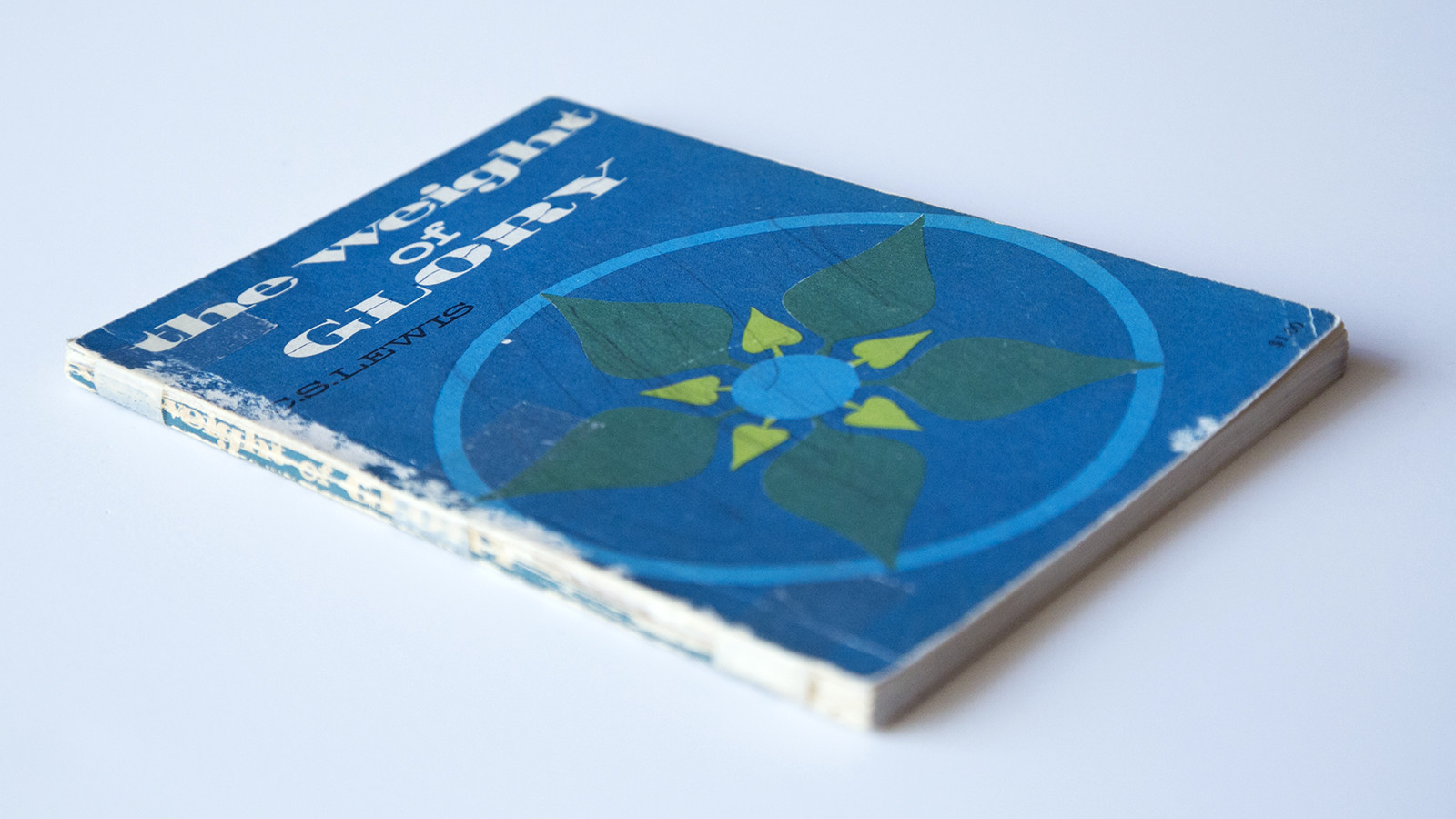 Transcripción de Audio
No soy Cristiano porque asisto a la iglesia los domingos. Ni lo son ustedes. Ni tampoco lo es John Piper. Este fue un descubrimiento que Piper hizo en las páginas iniciales de un libro de C. S. Lewis. En la providencia de Dios, un libro delgado de color azul con el título "El peso de la gloria" encontró su camino a la vida de Piper a la edad de 23 años (recientemente fotografiado, arriba). Así es cómo recordó la historia en un sermón del 2015.
La segunda ola que me impactó a los 23 años, fue el descubrimiento de que mis deseos no eran demasiado fuertes, sino demasiado débiles. Y el remedio para mi temprana perplejidad no yacía en deshacerme de mis deseos, sino en llenarlos con Dios. Eso fue revolucionario para mí.
Tu problema, ansia, dolor, anhelo, y necesidad, John Piper, es que aún no deseas como deberías desear. Vendré a tí y pondré un fuego bajo el fuego de tu deseo. Te mostraré lo que es desear. Y luego, Él coloca su gloria frente a ti y te llena con su Espíritu Santo y descubres lo que es el deseo.
Y fue C. S. Lewis el que desbloqueó la puerta. Estaba parado en la Librería de Vroman en la Avenida Colorado (en Pasadena, CA) tras haber leído Mere Christianity (Mero cristianismo) en la universidad. Me fijé en una mesa. Creo que estaban en liquidación o algo. No estaba seguro de por qué estaban afuera sobre una mesa. Ví un librito llamado The Weight of Glory (El peso de la gloria) por C. S. Lewis. Lo levanté, abrí la primera página y leí esto:
El Nuevo Testamento tiene mucho que decir acerca del sacrificio, pero no acerca del sacrificio como un fin en sí mismo.
Oye, eso llamó mi atención.
Se nos dice que nos neguemos a nosotros mismos y tomemos nuestra cruz para que podamos seguir a Cristo; y casi cada descripción de lo que finalmente encontraremos si lo hacemos contiene un llamamiento al deseo. Si persiste en gran parte de las mentes modernas la idea de que desear nuestro propio bien y esperar fervientemente el placer es algo malo, yo planteo que esa idea se ha introducido sigilosamente desde Kant y los estoicos y no es parte de la fe cristiana.
¿Me está tomando el pelo? Creí que era así. Pero no, "no forma parte de la fe Cristiana".
Si consideramos las claras promesas de recompensa y la asombrosa naturaleza de las recompensas prometidas en los Evangelios, parecería que Nuestro Señor encuentra nuestros deseos no demasiado fuertes, sino demasiado débiles. Somos criaturas asustadizas que pierden el tiempo con la bebida, el sexo y la ambición cuando se nos está ofreciendo una alegría infinita, como un niño ignorante que quiere seguir jugando con el barro en los suburbios porque no se puede imaginar lo que significa el ofrecimiento de unas vacaciones junto al mar. Nos quedamos contentos con demasiada facilidad.
He escrito muchas veces que los libros no cambian a las personas, son los párrafos los que cambian a las personas. Eso es todo lo que recuerdan cuando finalizan un libro. Eso. Y eso es suficiente. Eso mueve el mundo. Sin importar lo demás que estuviese en el libro, eso cambió el mundo. Y luego pude verlo, por supuesto, como lo han hecho ustedes, a través de toda la Biblia. "Como el ciervo anhela las corrientes de agua, así mis pantalones . . . " ¡no, mis pantalones no! Comienza de nuevo. Edítalo. O déjalo; fue gracioso.
"Como el ciervo anhela las corrientes de agua, así suspira por ti, oh Dios, el alma mía. Mi alma tiene sed de Dios, del Dios viviente; ¿cuándo vendré y me presentaré delante de Dios?" (Salmos 42:1–2, LBLA).
"Pon tu delicia en el Señor, y Él te dará las peticiones de tu corazón" (Salmos 37:4).
"Servid al SEÑOR con alegría" (Salmos 100:2). Es un pecado servir al Señor de otra forma.
"Regocijaos en el Señor siempre. Otra vez lo diré: ¡Regocijaos!" (Filipenses 4:4).
Así que el mandato de Dios de alegrarse en Dios no era, para mi asombro, marginal. Era central. Lo impregnaba todo. Estar satisfechos en Dios no era poner la guinda en el pastel del cristianismo. No era el último vagón del tren. No tengo la intención de ofender a nadie, sólo un poco. Era la esencia y el corazón del cristianismo.
El cristianismo — escuchen bien, gente del cinturón bíblico del sur, presbiterianos, bautistas, o lo que sea — el Cristianismo no es una religión de fuerza de voluntad. No es una religión de decisiones para hacer lo que no queremos. Es una obra sobrenatural de Dios por la cual nacemos de nuevo de forma que deseamos a Dios más que cualquier otra cosa.
Si no desean a Dios más de lo que desean cualquier otra cosa, no son cristianos.
Eso es lo que significa el nuevo nacimiento. Toma corazones que están enamorados del mundo y los enamora de Cristo y su Padre, del Evangelio y la gloria de ser salvos con la promesa de entrar en el paraíso eterno de alegría. Y si esto es algo poco interesante, aburrido e insignificante para ustedes, y todo lo demás en el mundo les parece real, entonces no son Cristianos. No me importa cuántas decisiones hayan hecho, cuántos pasillos hayan caminado, o cuántas tarjetas firmaron. No me importa lo que hacen, o a qué iglesia van. Eso no es cristianismo. Para mí fue una revolución.
Es muy amenazador. Sí, lo es. Es aterrador descubrir que mi corazón tiene que cambiar para ser cristiano. Tengo que poseer valores nuevos, pasiones nuevas, deseos nuevos, goces nuevos. Las cosas nuevas me hacen feliz. No es solo que empecé a ir a la iglesia. ¡Uf! ¿Quién desearía llamar a eso cristianismo? No es eso. Fue una revolución para mí. Mis deseos no eran lo suficientemente fuertes. Eran demasiado débiles, porque convertirse en cristiano es recibir un corazón nuevo, lo que significa nuevas pasiones, nuevos deseos, nuevos anhelos. Jesús pasa a ser tu más grande tesoro.
"Estimo como pérdida todas las cosas en vista del incomparable valor de conocer a Cristo Jesús, mi Señor" eso es cristianismo normal (Filipenses 3:8).