Is Football Too Violent for Christians?
This week, in perhaps the most violent football game of the NFL season, Monday Night Football featured the Cincinnati Bengals hosting their rivals, the Pittsburgh Steelers. By the time it ended, Hall of Fame quarterback Troy Aikman called it "terrible for the NFL and the game of football overall."
The injuries were brutal.
Early in the first quarter, Ryan Shazier, a Pro Bowl linebacker for the Steelers, injured his back on a tackle, fell to the ground, and rolled from his side to his back, clearly unable to move his legs, signaling for help from the sideline. He was carted off on a stretcher and hospitalized over several days for a serious spinal injury.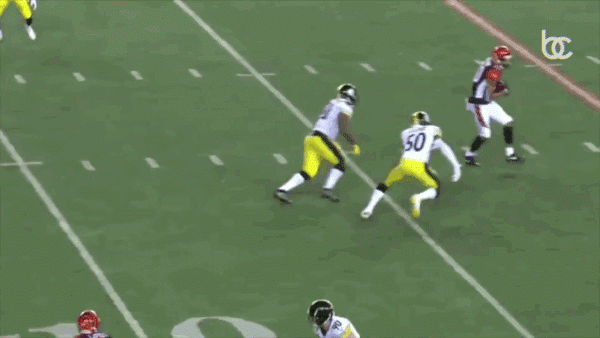 What unfolded next, in the words of one reporter, was "a parade of illegal hits and deliberate head shots between regional rivals" — a melee ending in flags, fines, and a few suspensions from the league.
JuJu Smith-Schuster was flagged, fined, and suspended for a dirty blindside block of Vontaze Burfict. On the broadcast, Jon Gruden called it "bad football" and "bad for the game."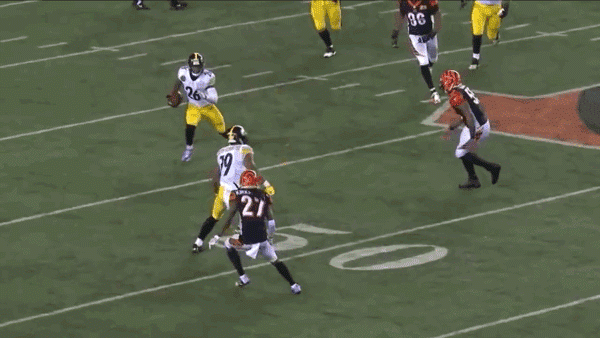 Cincinnati safety George Iloka capped the violent night with a high, helmet-to-helmet hit on Antonio Brown's touchdown catch. Iloka was flagged and suspended (which was later reduced to a large fine).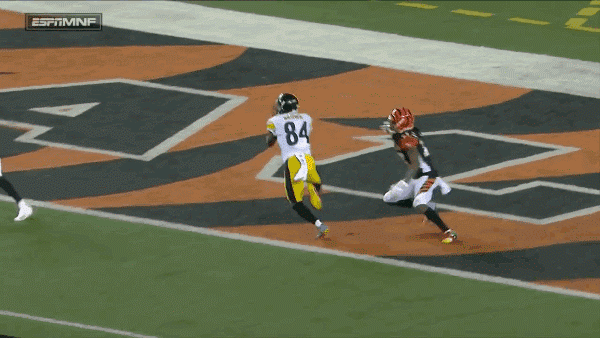 Did the violence go too far Monday night? Or is this the football we all pay to see?
The day after the game, sportswriter and football lover Michael Wilbon said, "While I watched the game in real time — and I watched every snap of it — I sort of recoiled. I felt guilty that I was seeing this violence. I know the game has moved away from this type of violence. But on the other hand, America fell in love with football just because of that kind of violence. . . . I love football for the violence! Most people do. They'll lie now and say they don't."
But perhaps the violence of today's football is different, as Tony Kornheiser reminded Wilbon a moment later, all because of CTE.
CTE
Chronic Traumatic Encephalopathy is a degenerative neurological disease, and it has changed the way football violence is being perceived. New studies and reporting have raised questions about the NFL's knowledge of CTE in the past, and their efforts toward making the game safer today.
CTE reportedly causes all sorts of problems in the lives of retired players, including memory loss, confusion, depression, mood changes, a rise in anxiety and aggressiveness, and early-onset dementia.
In one study of 111 brains of deceased former NFL players, 110 were neuropathologically diagnosed with CTE (99%). In the same study, among college football players, 48 of 53 had it (91%).
Though it remains rather unclear how widespread CTE really is, in August, longtime NFL quarterback Boomer Esiason (56) said it would not surprise him if he was diagnosed with CTE. Why? "Because I think all football players probably have it."
So what role do we the spectators play in the long-term price of football violence? It leaves me with a question I cannot ignore:
Assuming the accuracy of major reports on the degenerative brain disease Chronic Traumatic Encephalopathy found often in the brains of former American football players, and assuming concussions remain a common part of the game today, and assuming a Christian is aware of all this, is a Christian who buys a game ticket or team merchandise for an NFL or NCAA football team complicit in funding a system that will likely lead to CTE consequences later in a player's life? Yes or no? Why or why not?
I asked six friends to respond, not to arrive at one consensus, but for each to share their own perspective as we all consider this controversy from a number of angles.
---
Ted Kluck is the author of twenty books, including Three-Week Professionals: Inside the 1987 NFL Players' Strike; screenwriter on the forthcoming feature film Silverdome; and journalism teacher at Union University in Jackson, Tennessee. He says, Yes, we are complicit.
Of course, if we agree that football is violent and chaotic and dangerous (it totally is), and we agree that buying a ticket assures the continued flourishing of that violent, dangerous thing, then of course we're complicit. Just like we're complicit in an often morally bankrupt Hollywood system when we buy a movie ticket, complicit in gluttony when we overpay for a lavish meal, and complicit in hypocrisy when we smugly announce to our small group that we're not letting our son play football — only to pull on our favorite college team's jersey on Saturday afternoon and flip on our giant HD television to enjoy the carnage from afar.

If we're that worried about being complicit in bad things, it may be best not to leave the house in the morning.

Yes, I still buy tickets. I still coach football at an HBCU in Jackson, Tennessee (Lane College). At age 41, I still occasionally play in semipro leagues in Mississippi, Tennessee, or wherever they'll take me. Everything worthwhile I've ever really learned about myself or other people I've learned on a football field. Football taught me how to be courageous, how to persevere, and how to thrive in a pain-saturated environment. It has given me lifelong friends and amazing times with my dad. And God's taking football away from me in college, and then giving it back to me later, taught me a lot (in both cases) about God's abundant goodness.
---
Alastair J. Roberts is an independent theologian, author, and podcaster. He says, Quite possibly.
There are a number of factors to be considered here. Were the players made aware of the known risks? How high are the risks and to what extent can they be mitigated by safety interventions and good practices? Have the leagues shown adequate concern for the safety of their players and responsibility for players with serious physical injuries or mental conditions as a result of their participation in the sport? The huge incentives in the money and fame that sports fans offer can blind players to the risks that they are taking and to the toll that they and their loved ones might have to bear in the future. On the other hand, we need to be critical of the risks that our society thinks are acceptable, and the risks that it doesn't.

Beyond this, I believe that we need to interrogate the place that sport and its stars play in modern society. In a number of respects, sport and its stars increasingly function as mass spectacles that displace more immediate and fundamental realities. For instance, sport often provides men with a sort of vicarious masculinity and a focus for male community that take the place once occupied by productive masculinity and male community. By now it may be a clichéd observation, but it is also important to consider the ways in which sport performs roles and assumes meanings formerly assigned to religious practice.

We will always tend to sacrifice for the sake of our idolatries. Rather than focusing narrowly on the question of our responsibility as sports fans for the injuries of the athletes we encourage with our support, I believe it is important to ask the more searching questions about the place of sport in our lives and culture, lest in potentially drawing back from possible sacrifices, we nonetheless leave the idolatry that generates them intact.
---
Owen Strachan is an author of several books and associate professor of Christian Theology and director of the Center for Public Theology at Midwestern Baptist Theological Seminary. He says, This is a complex question, and the moral and ethical strands within it would take time to unwind.
First, the motive of most sports fans is not to watch games that will cause brain damage. The motive is to enjoy God's common grace gifts, a motive I appreciate (and share). Second, we do not have a clear prohibition in the Bible that would automatically bar us from watching high-contact sports. That means we are called to exercise wisdom and discernment here. Third, we now know of the deleterious consequences of football violence, consequences that not only stem from the NFL or the NCAA, but also from youth sports, when the relative velocity of collisions between players means that young brains can be damaged (for example, see how Archie Manning handled his boys' participation).

There is a sense in which we are participating in — and abetting — a brutal system by supporting high-contact sports. It is now clear that our fandom with football is more roughly equivalent to engagement of boxing or MMA than we thought. These sports exact a vicious cost from at least some of their participants. We cannot easily turn away from this knowledge; we cannot close our eyes to truth.

The Bible does not tell us we cannot watch high-contact sports. But out of love for God-made humanity, fellow image-bearers, and out of awareness of the cost of the games we love, we should weigh our involvement accordingly.
---
Ed Uszynski has a PhD in American Culture Studies and works for Athletes in Action as a writer, lead strategist, and content developer for their website. He says, Yes, we are complicit.
If we pose the question in this manner, of course Christians are complicit along with everyone else in funding this system. But I find it interesting that the Christian community is just now asking about the morality of supporting football in light of CTE, while more obvious, disturbing issues have been around for decades. On the chart of reasons to potentially reject football, CTE strikes me as much farther down the list. For one, at this point it is a stretch to conclude playing football "will likely lead to CTE," since most older players are not coming forward testifying as such. Some are — the majority are not.

Secondly, those participating in playing football are not being forced to compete like pit bulls in a dog-fighting racket. It's far more problematic that parents encourage their six-year-olds to play tackle football than it is to watch grown men who chose it for themselves, fully aware of the potential immediate and future consequences it affords.

But football culture at both the NCAA and NFL levels has already been overflowing with morally scandalous concerns for years. Far more egregious reasons to reassess one's participation have existed long before the CTE scare. Consider this low-hanging fruit: exploitation, cheating, hyper-sexualization, gambling, publicized player/coach debauchery, racism, sexism, hardly penalized criminal offenses, the dominance of Sunday, an idolatrous mix of God and country, excessive financial cost. If you want to walk away from football, consider choosing from this more obvious and long-standing menu of football-culture moral junk food.
---
K. Erik Thoennes is professor of Biblical and Theological Studies at Biola University and author of "Created to Play: Thoughts on Play, Sport, and the Christian Life." He says, No, we are not complicit.
Football is dangerous, and may be stupid, but it's not immoral. The same could be said for climbing a mountain, riding a motorcycle, being a commercial diver, or attending a Hanson concert. I've done all of those things (except one), and my life is richer because I did.

In fourteen years of playing football, I only left the field in an ambulance once, and although I lost count of the times I "got my bell rung," and had several legit concussions, I would certainly do it all again. I loved to hit. And, although I realize this will seem bizarre to many, I loved getting hit, and getting up, and getting back to the huddle. Those hits were preparing me for life in a fallen world — playing football tremendously shaped my character for good, and the unique relational bonds developed on the field were deep and lasting.

The intensity of football is one of the main reasons it is so fun and formative, and the potential danger is why it is so intense. All those collisions do take a physical toll, and I think it is wise to improve the rules and equipment so it cuts down on injuries. But football is a violent game, and although injury is an unavoidable part of it, injury is not the goal (this cannot be said of professional boxing, where causing a brain contusion is the supreme goal). For thousands and thousands of young men like me, football taught us to be better men, and even to be better Christians. Like climbing Mount Everest, I think it's worth the risk.
---
David E. Prince is pastor of preaching and vision at Ashland Avenue Baptist Church, assistant professor of Christian Preaching for The Southern Baptist Theological Seminary, and author of In the Arena: The Promise of Sports for Christian Discipleship. He says,
No — if the word "likely" is retained. At this time, the research simply does not support that strong a statement.

Yes — if we replace "likely" with "could" lead to CTE. But no more so than we are complicit in funding a system that leads to the deaths of loggers and fishermen, America's two deadliest occupations (and at tragically high rates). Commercial logging workers lose their lives on the job at a rate of 127.8 per 100,000 full-time workers and fishing-related professionals lose their lives at a rate of 117 per 100,000 full-time workers (Bureau of Labor Statistics). Thus, every time we enjoy seafood or purchase commercially made furniture, we are complicit in creating demand for occupations that lead to those deaths. Neither occupation is necessary for our personal human sustenance.

Likewise, football is a rough sport and, played at elite levels, it poses some significant health risks. The link between CTE, concussions, and the repeated contact in a collision sport like football should continue to be studied, and the game should, as it has repeatedly done, take measures to improve player safety. Players should be informed of the inherent risks in the same way a doctor must explain the inherent risks of a surgical procedure before he operates. But we must not only listen to the most alarmist voices and assume headlines are fact.

For instance, did you know that NFL football players are less likely to commit suicide than the general population in the United States? Based on the media narrative, probably not. In fact, pastors (like me) have a higher suicide rate than NFL football players. A Christian should make all decisions, including sporting ones, in light of their faith. For me, as of now, I enjoy football with a clear conscience, believing it brings far more cultural good than bad.